| | |
| --- | --- |
| | diferencias |
A journey of discovery through 'àl-Andalus' and 'Hispania', comprising music from two very contrasting eras of the Iberian peninsula.

The first part of the programme reveals the fascinating and austere monastic music of Las Huelgas (Burgos), around 1290

It was a time in which art and architecture of the so-called ' Mudéjar style' was cultivated, the melting of christian and arabian elements. This fascination for the islamic heritage remained popular well after 1492 when Queen Isabel finally expelled the Jews and the Arabs who had influenced Spain for so many centuries.
The second part contains music from these turbulant times:

The more familiar sounds and warmth conveyed in compositions
of Cabezon or Cristobal de Morales and the popular, light though melancholy villancicos which oscillate between Orient and Occident.
If something like a Mudéjar-music-style exists, here it is, with all its charm and wit.
the program

Codex Las Huelgas (Burgos ~1290)








Antonio de Cabezon (1510 - 1566)

Cristobal de Morales (ca. 1550 - 1553)

Villancicos: Canciero de Palacio (~1530)
Francesco de la Torre

Andreas Lopez

Ortega

Anonimo / Enrique




Anonimo



Juan del Encina / Alonso


Benedictus
Salve, virgo virginum
O gloriosa Dei genitrix
Propter veritatem
Virgo sidus aureum
Hec est mater Domini
Belial vocatur
Benedictus

Diferencias

Ecce virgo concipiet
Sancta et immaculata virginitas

Danza alta

Hero del alta torre

Pues que me tienes, Miguel

Dolce amoroso focho
Pues serviçio vos desplase
Dolce amoroso focho
Dormiendo està el cavallero

Tres morillas
Enemiga le soy, madre I-II-I
Tres morillas

Amor con Fortuna
La tricotea Samartin la vea
Amor con Fortuna
L'amor, dona

'...the playing is excellent and the embellishments are, as one would expect from the title of the disc and the group, effective.

' (Early Music Review Sept.2000):

'Verblüffende Virtuosität ist bei dieser Profitruppe gleichsam Standard. Zudem vermittelt die Crew auf ihrem Spanien-Trip auch ein starkes emotionales Spektrum. Hier spirituelle Versenkung, dort pure Lebenslust – es gibt 1000 Trance-und Dance-Grooves von anno dazumal zu entdecken. (Audio 6/2000)

'...denn mag der Umgang dieses Ensembles mit seinen Instrumenten und mit der Musik noch so frei sein, so spürt man doch gleich, dass es nicht um gesuchte Effekte geht, sondern um die phantasievolle Umsetzung alter Musik. Seine eigenwillige neue CD heisst wie das Ensemble selbst "diferencias". (Schweizer Radio DRS 2 5/2000)

'...avec d'incroyables effets de virtuosité!' (Goldberg Spanien 3/2000)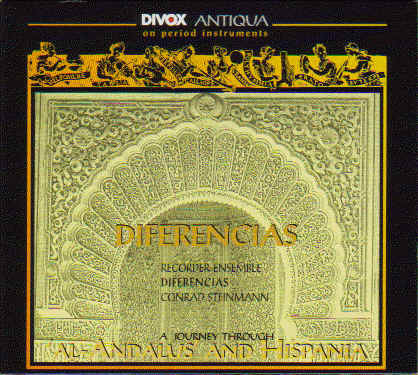 ensemble diferencias: "DIFERENCIAS" - Divox Antiqua CDX-79809
A musical journey trough "Al Andalus" and Hispania